The winner of the Skin Free $30 gift certificate has been selected. There were 93 entries but only one could win. All others, can purchase their own Skin Free products directly from the Skin Free website or via discount retailers, like Walgreens. Best of all, Skin Free products qualify under the Medical Flex purchase; thereby saving you even more money when you use your before tax dollars!
Without further ado, the Skin Free winner is lucky number 68!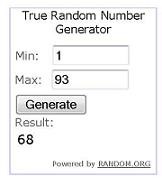 No. 68 said:
68 Stephanie LaPlante
October 17th, 2009 at 12:04 pm
Daily Tweet
http://twitter.com/stephy905/statuses/4944722016
Congrats Stephanie! Please provide me with your contact information within the next 48 hours or another winner will have to be selected.
Gracias/Thank you!