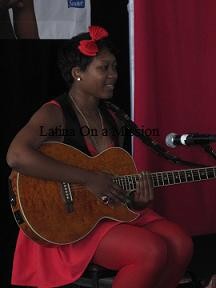 I was unaware of the singing talents of Priscilla Renea until the day she performed at the W Atlanta – Midtown Hotel, for the Blogalicious Convention in Atlanta, Georgia.  Thankfully, Mignon Renee, who blogs at Intellectual Soul ,was seated near me. She explained a bit more about this young artist who rose to fame with YouTube videos of herself singing and playing guitar.  I was intrigued, then delighted, when I heard her sing Dollhouse and Worker Bee.
I did some research when I arrived back in New York and below is what I discovered.
Priscilla Renea began posting YouTube videos of herself in 2007.
Her performances led to her being featured on the MTV show Say What? Karaoke.
She now works with Capital Records.
Her first album, called Jukebox, will be released on December 1, 2009.  
Below is a short clip of Priscilla Renea singing "Worker Bee". Enjoy!
You can purchase Dollhouse, the single, for 99¢ by clicking HERE
You can also pre-order the album,Jukebox, with Price Guarantee* by clicking HERE.
*Order now and if the Amazon.com price decreases between your order time and the end of the day of the release date, you'll receive the lowest price.