I recently came across these leggings in Bloomingdale's Book, under the Hot buys section.
The first set of leggings is from Bloomingdale's, with a retail value of $118.
I found a similar set of leggings on Amazon. The second set has a retail value of $19.98. Note, I wasn't able to capture the picture of the gold or black color leggings but you can view them on the site by clicking on the link under the picture.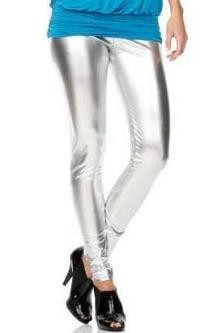 Pink Rose Stretch Metallic Liquid Leggings
What do you think? Does it look Chic or just plain Cheap? Is this a fashion hot buy as Bloomingdale's stated? Let's hear your thoughts!