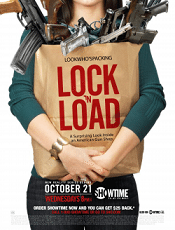 Lock 'N Load, a new reality series that is premiering on Showtime on October 21, 2009, is offering a FREE advance screening of  its first 2 episodes. The event will run approximately fifty (50) minutes.  NOTE: The show is rated  TV-MA.
Below is the synopsis I copied from the e-mail.
Look who's packing. What you see may surprise you. Introducing LOCK 'N LOAD, the New Showtime Reality Series that goes inside Josh Ryan's Colorado gun shop to scope out who's buying and why. Natural born salesman Josh Ryan brings his distinctive style to a family-run Colorado gun shop while revealing the world of buying guns. Throw out everything you think you know about one of the most controversial and polarizing issues in America as Lock `N Load presents an unbiased, hidden-camera look at the unique characters and personal stories of today's gun buyers — from the hunting enthusiast, to the family protector, to the frightened grandmother, to the collector. Engaging and provocative, Lock `N Load invites you to be a fly-on-the-wall and judge for yourself. 
You can view a  preview below of this very controversial topic. Let me know what you think!

The show is sold out in New York, but available in the areas noted below.
Atlanta
Chicago
Dallas
Denver
Kansas City
Los Angeles
Minneapolis
Philadelphia
St. Louis
Click HERE to check availability.
********************
If this blog post helps you in anyway, please support me by voting for me on
the

Good Mood Gig.

Click

HERE 

to vote. You can vote everyday. Gracias/Thank you!