When I was selected to speak at Blogalicious, I was overjoyed and frightened at the same time. I can't recall which emotion ruled, but I KNOW I would not have missed it for anything in the world! Why? Well let me count the ways!
One:  Blogalicious 2009 was the 1st Blog Conference for Women of Color; however, women bloggers from all ethnicities were in attendance, creating a diverse group of dynamic, inspiring and empowering women.  I will post more on these women later on this week. Several touched me so deeply that I would like to showcase some individually.
Two:  The advertisers who supported the event are ahead of the game! Women of Color encompass a huge spectrum and a great source of revenue. By supporting the event, they earned not just my loyalty, but the loyalty of the women in attendance and many of their blog/twitter followers.
Three: As a first time blog speaker, I was extremely nervous! I was worried I would pass out in front of everyone. Could I do it I continuely asked myself? I'm happy to say I didn't barf, faint or run out screaming! Why? Because of the supportive atmosphere of all the women in attendance!
Four: The W Hotel was heavenly! Sighhhhh
Five: I was able to see two of my younger sisters, Title Town Mom, who attended the blog conference with me and Arlene. We had been raised separately, losing track of each other for many years (7 and 22 yrs respectively). Getting to see them after so many years was amazing! We laughed, cried and caught up on our lives. 
Below are some of the pictures I have of my biological father's children, my 3 younger sisters and 1 brother. Hmmm let's see if you can find me! After you stop laughing, leave me a comment and I'll let you know if you were right!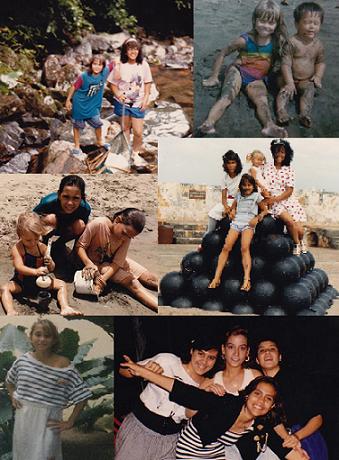 I have to thank Sun Kissed Mommy who sponsored my W Hotel stay in Atlanta, as well as Mamalaw for organizing such an amazing event! For those of you who were not able to attend this year, don't despair! Blogalicious 2010 is already in the works and will be held in Maimi, Florida next year.  So ladies start planning and make sure you have a swimsuit!