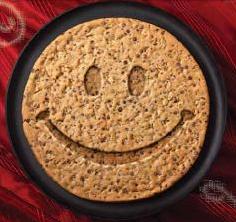 Yum! Mrs. Fields is celebrating National Cookie Month by giving away a FREE chocolate chip cookie on October 1, 2009, between the hours of 11 a.m. and 1 p.m. The cookies will be given out at participating Mrs. Fields' stores.
Best of all, when you pick up your FREE chocolate chip cookie you have the opportunity to get a frequent buyer card that will get you up to SIX (6) additional cookies through October 31! How yummy is that?!
To find a participating store, click HERE.
Enjoy and don't forget to stash that ca$h!