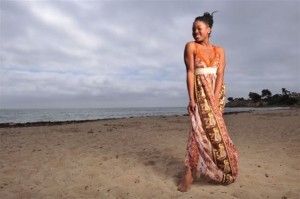 I found out about Alycia Nicole, an artist from Santa Barbara, CA, from a girlfriend of mine who grew up with her. She raved so much, I had to listen to the tunes myself and find out a little more about the artist and her music.
Alycia Nichole is an Indie artist who grew up singing in Santa Barbara, CA. She sang in her church choir, eventually becoming a soloist. Along the way she was inspired by many artists including Lauryn Hill and Erykah Badu, two of my faves, as well as several others. Their influence is evident in the undertones of  Alycia Nichole's sounds and intonations. Yet its also different, unique.  Her songs are moving and inspirational. They hold you up and lift you higher. They help you rise! She has an energy and sassiness that comes across in her music. Her enthusiam is evident in her songs, particularly "Starlight", one of my favorites. Its an eclectic mixture of  R & B and Neo-Soul.  
I also discovered that Alycia Nicole is a Finalist in WYCLEFS "More Bottles remix" Contest on Twitter. In support of this inspiring young artist, I ask you to vote for her and help her acheive her recording dream. 
You can view her audition HERE.
You can vote for her HERE.
You can follow her on twitter HERE.
You can vote once a day till Friday, August 7th so vote, vote, vote!
As quoted from Alycia Nichole's site "ONE LOVE and THANKS in ADVANCE."