GIVEAWAY CLOSED
SABRINA, THE WINNER WAS CHOSEN & CONTACTED BY PRETTY BRAINY
**********
I recently had the opportunity to review an amazing t-shirt from Pretty Brainy.  The founder and CEO, Heidi Olinger, set out to create an inspirational T-shirt to motivate tween girls to reach for their dreams while also looking stylish and chic. I believe she succeeded!
Heidi sent a beautifully wrapped t-shirt, with a letter addressed to my 9 year old niece, Elena, an avid soccer player. The t-shirt we received was no ordinary t-shirt, it was so much more than that! It was a long sleeved black t-shirt with beads at the ends of the sleeves. The shirt also had a short bio of a great female athlete on the right sleeve that reminded Elena that she too could grow up to become a great athlete! In the center of the front of the shirt is the company's name "Pretty Brainy", while the back of the shirt screamed out to all who read "Look Who's Pretty Brainy",  wonderful reminders that being smart is beautiful and my niece definitely is!
The beads on the t-shirt will hold up in the washer and dryer. Its best to turn the shirt inside out and wash in a lingerie bag in the washer. Elena loved the shirt so much that her Mom washed it by hand even though it said it could go in the washer. She also air-dried it but she's green like that! I would have thrown it in the dryer 

Below is a picture of the T-shirt she received.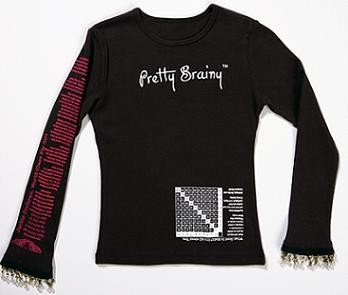 The letter Elena received with the t-shirt was also a beautiful touch not found in many companies. It personalized the t-shirt and made her feel special. Heidi included a reference to my niece's love of soccer and how she too could become a great athlete just as Babe Zaharias, the woman referenced on the t-shirt. But she didn't stop there, she also reminded her that the world is hers if she dreams big, plans and doesn't give up! This extra touch, the ability to connect with Elena and personalize the shirt, made her company stand out from so many others! When I inquired, Heidi stated that the letter is customary for all orders because Pretty Brainy doesn't just want to sell you a t-shirt, they want to INSPIRE your daughter to be all that she can be!  
I know you believe that special tween girl in your life is just as pretty and brainy as my niece and Pretty Brainy does too! That's why Pretty Brainy is offering one embellished t-shirt each week through Friday, August 14, so you have 4 chances to win!!! So go ahead … Have fun. Win a T!
Readers also have a chance to win one coupon each day through August 14, 2009,  good for 15% off a purchase at Pretty Brainy, by completing a poll. Perfect for back to school shopping!!! Click HERE to go directly to the poll.
MANDATORY ENTRY- YOU MUST DO THIS BEFORE YOU CAN RECEIVE EXTRA ENTRIES:
1.  Visit PrettyBrainy.com and let me know which is your fave T-shirt. I know its a hard choice so if you like more than one tell me!
EXTRA ENTRIES:
1.  Subscribe via e-mail or feed. Subscription options can be found on the right-hand side. Already a subscriber then note it in a comment!
2.  Follow me on Twitter and tweet this post, leaving a link to the tweet in your comment. You can tweet once a day till the giveaway ends, so go ahead tweet away!
3.  Follow @PrettyBrainy on Twitter by clicking HERE and tweet about the 15% coupon. Leave your twitter name for verification in the comment and tweet link! You can tweet once a day till the giveaway ends.
4.  Blog about the giveaway and provide me with the url. (2 entries)
5.  Grab my Button, shown on the right-hand side, or add Latina On a Mission's url to your Blogroll.
Don't forget – Leave separate comments for each entry!  
Giveaway open to US Residents only. Ends on July 24, 2009 at 11:59 p.m.