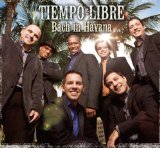 Cafe Bustelo has joined with Tiempo Libre to give you one free song from their new album Bach in Havana. The free song is Tu Conga Bach. You can also listen to four of the album's songs for free! The four songs are (1) Tu Conga Bach, (2) Fuga, (3) Air on a G String, and (4) Clave in C Minor.
Click HERE to listen and get your FREE download.
You can also purchase the CD, Bach in Havana, by clicking HERE

Or download the MP3 by clicking HERE.