I love Staples! They have some amazing deals for back to school, including some wonderful freebies each week.
This upcoming week (July 19-25, 2009) the following items are FREE:
mechanical pencils
retractable gel pens and
assorted retractable highlighters.
Along with these freebies, they have other wonderful products on sale like a 50 pack of Photo Supreme Double Sided Matte paper for $1, which is perfect for scrapbooking! I definitely suggest you pick up a pack of these for a future project.
In the meantime, I want to show you how you can use these freebies and discounts to create great party favors for children and tween classroom birthday parties. I've done this for the past couple of years and spend about 20-30¢ per child (if that!), which comes out to less than $10 for THIRTY kids! I actually have a nice stockpile that I also use whenever a group of kids come over so they can draw/write and let the adults bochinchar/gab!
I purchased the 30 pencil cases (shown below) for 1¢ each.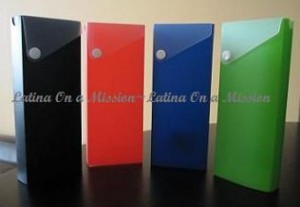 I was able to get the pencils and erasers FREE. I than paid 10¢ for two scissors and got 40 strips of stickers for $2 from the 99¢ store, which comes out to 5¢ per strip.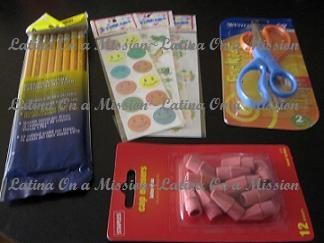 I was also able to get the pack of pens for FREE and the mini magnetic stapler, pencil sharpener and mechanical pencils for 10¢ each.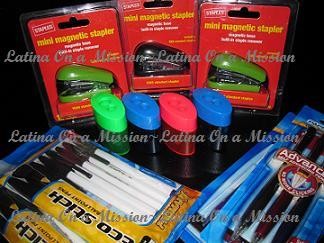 I stocked the pencil case with 2 pencils, erasers, a pencil sharpener, one strip of stickers, and scissors. It also has enough space for candy but my school doesn't allow candies anymore.  You can also add stickers to decorate the outside of the pencil case or even create a birthday banner to place on the top (I did that!).
The total price for the above is 21¢ per child! It includes:
a pencil case (1¢)
pencils and erasers (FREE)
1 pencil sharpener (10¢)
1 scissor (5¢)
1 strip of stickers (5¢)
You can also vary it if you have an older child by using mechanical pencils, pens and a mini stapler.  In fact you can get the mechanical pencils, retractable gel pens and assorted retractable highlighters that are FREE this week to create GREAT classroom birthday party favors!
Ultimately, as noted in this post and in my previous post HERE,  if you start stockpiling now you will be able to get most of your children's school supplies, as well as extras for classroom supplies and party favors, for about $10-25 max!
Now that's a deal that you can take to the bank! Of course, don't forget stash that extra ca$h!