Today I saw a glimpse of who my son will become when he enters adulthood. Images of when he was younger flashed through my head and I was amazed that this young man is maturing into a wonderful human being. I know it sounds bias because I am his mother but you would have to know us to understand just how far we have come as a family and as individuals. I am thankful to God for the change in our lives, especially in his.
I was 22, almost 23, when I had Big K. I had just come from Puerto Rico and was very sheltered and naive. His father was my first in everything, my first boyfriend and my first intimate relationship. I thought it would last … but it didn't. Yet I knew I wanted Big K since the moment I found out I was pregnant.  He was, and still is, one of my greatest blessing (at least until God gave me Prince!) and for him I grew up.
Before Big K, I attended Pace University but city life beckoned. I dropped out to hang out with friends. Yet as soon as I found out I was pregnant I knew I needed to get back to school. It was the only way I could give him all he needed and deserved. I worked double shifts during my pregnancy and when I returned from maternity leave, 5 months after he was born,  I continued the routine. During that time my dream did not fade. I came home exhausted but determined. By the time Big K was one, I had saved about $30,000 in my savings and IRA (which I cashed out). It was enough to pay my rent and our necessities, while I worked part-time and obtained my Associates, the first step to a better life! 
Those were carefree times for he and I! I've always been very savvy with money so we were able to live a "Latinalicious" life. We traveled when I was on break. We went to museums, parks, the zoo, amusement parks and the beach (every weekend in the summer!). I have amazing friends and family who supported and helped us. Every girlfriend was an aunt! In fact, Big K told me he had more aunts (Titis in Spanish) than he could count! They brought Big K his baby furniture (Gracias Mary!), taught me to cook and invited us for dinner when they saw I was horrible at it (Thanks Christina and Lorraine!), played with Big K ("Sharing is caring right Ivette!), watched him so I could study or go out every once in awhile (Thanks Kenny, Lorraine, Luly, Christina and Sandy!). They pushed me and kept it real (Mom/Fina you inspired me!). They adopted us (Love you Walter for being the male father figure my boys need!). And best of all when I needed an ear, they listened (Lisa/May you are my girls for life!). They were and are our family!
As I watched my son with his suit, all 5 ft 9 inches of him, I recalled the younger Big K, the stubborn and carefree child he had been. I remembered when he started a fire in my bathroom. Or when he threw such a HUGE tantrum, my neighbor threatened to call ACS as she banged on my apt. door. Of course, as soon as I opened the door, he stopped kicking and crying. He even  gave her an angelic smile as he said hello!  I recalled how I almost called him Champagne (Blame it on the hormones!) and didn't give him water the first year he was born because no one told me babies needed water! I also remembered how terrified I was when he was about 5 and disappeared! He had opened the door while I was showering to go play with the neighbors dog AND yes I ran out in a towel when I didn't hear him! As he aged, he matured. He is no longer stubborn, but independent, a leader. As for his carefree attitude, that I'm happy to say matured also. He's learned that there is a time for fun and a time for hard work.
As I looked at him, I could see that he had listened during our talks, that he had noticed all my efforts, that he recalled, how I stressed education as I later worked full-time, while going to school full-time, so that I could get my Bachelors. He couldn't contain his excitement as he prepared to leave, neither could I. But I have to admit a part of me was sad. I was sad because my son, my heart, would be leaving to college in less than three years. It was what I had strived for since he was born … to give him something that no one could ever take away from him: an education. In this program, he has a chance of getting a full 4 year scholarship, as well as a guaranteed job, by one of the sponsoring companies. It is all I had dreamed of and so much more! So please explain to me why I felt so sad as the cab drove away?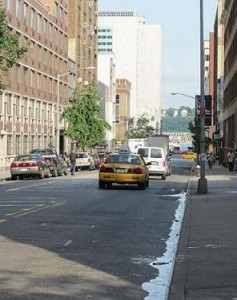 *I don't normally post about Big K, my teen, because he doesn't feel comfortable with it but he gave me permission. Gracias Amor!/Thanks Love!