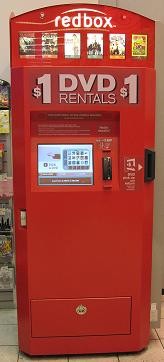 Have you joined Redbox yet?
For those of you unfamiliar with Redbox, let me explain. Redbox is an online website that allows you to rent movies. You can chose and reserve movies online, then pick up your movies at the Redbox location near you. Or if you tend to do things last minute, as I do, you can just swing by the nearest location to select and pick up your movies. The fee to rent a movie is only $1  and best of all there are no late fees! You can check to see if you have a location near you  by clicking HERE.
You can click HERE to receive a FREE movie rental. You will have to subscribe but I think its well worth it! If you do, you'll receive a heads up on the monthly free codes via e-mail.
You can also sign up to receive free codes on your cell phone via SMS alerts. I did! This way I get the codes automatically AND I can pick up my movie and popcorn on the way home.
Also, as a special treat for my Latinalicious readers, here's another Redbox code that's good for a one time only rental on either June 22 or June 23: rbxthxu6   This means you can get not one, but TWO, free movie rentals this week!
Now go ahead, enjoy your free movies and stash that ca$h!