This weekend was a very busy AND fun weekend. My mother was able to come over and watch the boys for me – Gracias Mami! – which allowed me to meet with several bloggers for brunch in the city. We had coffee, food, and of course Latinalicious conversation, sans children! Ahhh it was wonderful!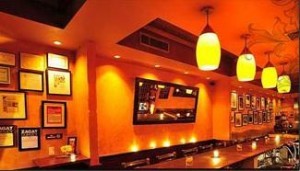 Later on in the evening, I enjoyed dinner with several of my friends: Christina, Brenda and Emily. Thanks Chicas for a great time! We dined at Vero (shown above), a wine bar and restaurant, located on 53rd and 2nd Avenue. We drank Sangria and ate Seared NY Strip Loin of Beef,  Braised Short Rib Soft Tacos, Black Bass Tacos, and my favorite Saffron Arancini, which are fried saffron and mozzarella filled risotto balls. It was De-Li-Ci-Ous!  FREEBIE ALERT:  On Monday nights, Vero's offers FREE paninis (shown below) with any purchase of wine, specialty drink, or beer, for a savings of $12-13.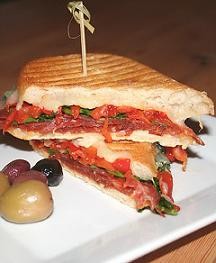 After dinner we hopped into a cab and headed over to Radio City Music Hall to see  Juan Luis Guerra (JLG). The scalpers were out in mass for this superstar event! They attacked us as soon as we arrived. Two ladies seated near us actually purchased a pair of tickets from the scalpers, than in the middle of the show another couple showed up with tickets for the same seats! Ha – Drama!! In the end, they walked away without a quarrel and were able to find seats further away from the stage.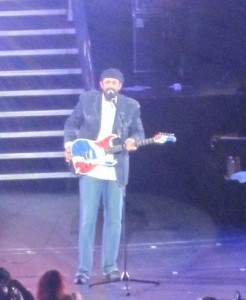 Juan Luis Guerra, a Dominican singer and song writer, sings many different styles including Merengue, Salsa, and Bachata. He also recorded a song with Taboo of the Black Eyed Peas called "La llave de mi corazón" ("The key of my heart"), performed as the opening act for the The Rolling Stones' A Bigger Bang Tour, sang with Sting,  and earned the distinction of being the highest grossing music tour of all time! He is a popular and diverse artist that has been able to change his beats, staying fresh throughout the course of his career, even including his Christian faith in his songs. Personally, after seeing him in concert, I've come to believe that his musical talents do not come across fully on DVD.  He is much better live. 
 That evening JLG sang one of my favorite songs Ojala Que Llueva Café(I Wish It Would Rain Coffee), which I recorded and included below. He also sang several other great songs like Bilirrubina and Como Tu no Hay Ninguna (Like You There Is No Other). The crowd ate it up! They were totally into the concert, dancing in the aisles and singing along with the tunes. In fact, the balcony, where we were seated, was shaking from all the dancing bodies. At one point, I was terrified we were going to fall! You can even see the bouncing in the video below.
I had a GREAT time at the concert and with all the wonderful people I met that day! I was totally wiped out by midnight but  it was well worth it!  THANK YOU LADIES!