Its taken me a while to post May's Surprise giveaway winners but finally here they are…
I selected two different May posts randomly, excluding Wordless Wednesday posts. The commenters on each selected posts were then entered into random.org and presto the winners popped out!
The two winners were ….
Angie from the post: Ten Quick Ways to Bring in Extra Money, comment # 1 who said:
May 16th, 2009 at 11:35 am
thanks so much for all the great tips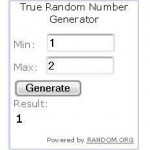 and
Jesse from the post: FREE Resume Copies and Business Cards from Staples, comment # 1 who said:
May 17th, 2009 at 11:25 am
Wow! This is a really cool deal. I never thought of having business cards made up for my blog. This is a great idea! Thanks for the tip

Each winner will win a $10 GC from Bath & Body.  Each winner has been contacted and has 72 hours to respond or they will forfeit their prize and it will go towards another month's Surprise Giveaway Post!
Don't forget to comment, comment, comment because you too may just win a surprise Gift Card!
Congrats to the winners! Enjoy!