Finally, I was able to go on random.org and have selected the Bath & Body Works Giftcard giveaway winner!
Drumroll please … the winner is #88, Saving Diva!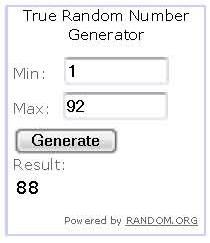 Saving Diva said:
SavingDiva
May 22nd, 2009 at 11:53 pm Moderate
I'm following you on twitter! @savingforhome
Congrats SavingDiva! I have sent you an e-mail and twitter message, please provide me with info within 72 hours or I will have to select a new winner. FYI: The product you like, C.O. Bigelow Mint chapstick with SPF 15, is on sale! How sweet is that?!
Buy two, Get one Free C.O. Bigelow, Liplicious and PINK Lip products
You can see current Bath & Bodyworks discounts by clicking HERE.