As summer time approaches I find that we are invited to more birthdays, communions, bridal showers, and weddings. This can be such a budget buster if  I didn't plan for the events by setting a budget each month; however, like all plans, sometimes these can also go awry. Its in those moments that I use my creativity!
When the gift is for a child, I try to keep my gifts under $10.  I've listed some examples of how I stay under budget below.
1. I recycle gift bags given to me. This not only saves money but saves our trees!  
2. When wrapping paper is needed, I use newspapers or magazines. I like using the Sunday funnies for children's gifts. They are in color and very festive.
3. I create a birthday card at home. Its much more personal than a store brought card. If you have pictures of the child you can use that on the front of the card. If you don't have a picture of the child, you can create a card with any picture. Below is a sample of a picture I used for the outside of a homemade card. The picture is of a billboard in Times Square. I thought it was a nice touch since so many kids are into texting.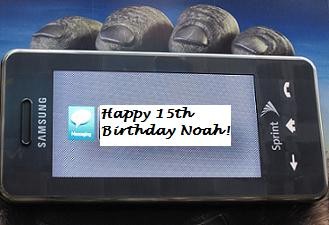 4. I normally stock pile items that I can use in giftbags. Some of the  items are generic enough that they can be used for boys or girls. They can also be used for a wide variety of ages. I will discuss this in a bit more detail in a future post. For now, here are a few items I try to keep on hand: Coloring books, crayons, wooden puzzles, Clay Doh, stickers, balls, jump ropes, DVDs, and CDs.
When the gift is for a tween or a teenager I try to keep it under $20. Impossible you say? Not if you are creative!
1. Purchase a bond. If you purchase an "EE" bond you pay half of the face value. I can get a $25 Bond for $12.50. For this gift you will be asked to provide your SS number if you do not know their number. Your SS number will not show if you note that it is a gift. Also, the bond takes a few weeks to arrive but at the time of purchase you can ask for a gift receipt to put in the card that you created!
2. Purchase a stock in something they are interested in. Example: If they enjoy motorcycles get a single share of  HARLEY DAVIDSON INC, which is currently trading for less than $17.  You can then frame the share and wrap it. With today's market you should be able to purchase under-priced single shares. Contact the company you are interested in and ask if it offers a Direct Share Purchase Plan or research individual companies by clicking HERE. This is a great way to teach a teenager about investing. Note, for this gift you will need their SS number.
3. DVD, Video Games, CDs – You can purchase any of these from Barnes & Noble.com, who works with Gamestop,  or Amazon.com

I suggest you compare prices and look for FREE shipping offers.
4. Music- Colored earphones($10), an iTunes Gift Card($5), and a CD mix made at home, make a wonderful gift bag option for a tween or a teen. To help you create a CD mix, click HERE to download six free songs (mainly pop) from Sephora, while supplies last OR get FREE downloads from Amazon
5. Gift Cards- I use my Swagbucks to get gifts for teens.  I like the Amazon Gift cards the best since it offers such a wide variety of items.  
6. Movie Tickets- My job offers employees discounted movie tickets through a purchasing program. If your job  doesn't you should check your car insurance (Geico offers this), and your medical insurance (Oxford and Cigna offer this). I can purchase tixs for as low as $6.95 each. You can create a gift bag with two tickets ($14), popcorn in a bag or unpopped (99¢  in the 99 Cents store), candy (2 for99¢  in 99 Cent store), and the home made card for a grand total of $16!  You can even add a Restaurant.com gift certificate.
7. Magazine Subscription- I gave Big K a magazine subscription to Entertainment Weekly and Little Man a magazine subscription to Sports Illustrated Kids over the holidays. I find that they love receiving mail and its a gift that keeps on giving since they remember me each time they receive another magazine. These gifts did not cost me one cent. They were absolutely FREE. You can order your own FREE magazines by clicking HERE.
8. For the reader, you can give them FREE MP3 Audiobooks. CLICK HERE TO DOWNLOAD , include a card and add a $10-20 giftcard, depending on your budget, to Barnes & Noble.com.  
When its an adult event like a Bridal Shower or a Wedding, I try to use my American Express points to purchase either a gift card or an item being offered via their site. I have a large amount of points because I use the card for everything. I then pay off the card at the end of the month. This has helped me save quite a bit of money. In fact, American Express just started offering it members, double points when they use the card to shop for groceries or to get gas. I find that using my card for everything helps me save money, as long as I pay off my debt at the end of the month and do not go over my monthly budget.  In the end, when I use my points I end up spending absolutely ZERO dollars!
Hope these frugal Latinalicious tricks help you save!