My home is my sanctuary, my oasis away from all the ruckus and strife that I encounter throughout my day. In order to make it my haven, I had to personalize it. Since I live in an apartment rental, I did not want to spend much. I needed to make it mine without breaking the budget so I thought outside the box!
Today I will show you parts of my room and how I used everyday items to decorate it, making it feminine without going into debt! To start it off I painted my room a rich green and orange. I did it myself to save money. I used paint I already had so I did not have to pay for paint. I tend to change my colors often so I do keep extra paint on hand which I purchase at Home Depot. If you are open to colors, they have a section of returned custom blend paints that are sold for a deep discount.  This is offered in EVERY Home Depot. You can also get FREE paint at Freecycle if you can wait to find something you like. 
After my colors were chosen I looked for items that would go with my color scheme. Below are the items I selected. 
Picture 1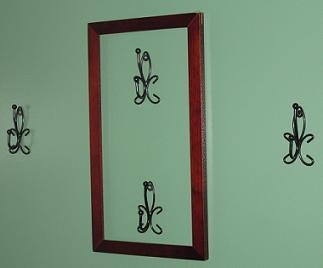 1. I paid 50¢ (Fifty CENTS) for the picture frame and 25¢ (twenty-five CENTS) for each of the hooks. I set this up in my room behind the door so that I could get my clothes ready the night before. I also use the side hooks to hang  handbags or for my robe. The grand total for this section of my room was$1.50!
Pictures 2, 3 & 4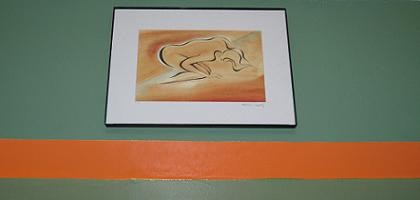 2, 3 & 4. I have a border that runs across my room. I was unable to get it in one picture and so broke it up into three pictures above. I painted the bottom of the border an orange stripe. I thought it gave the green a nice contrast.  I then purchased pictures from one of the many NYC vendors for $5 each. I placed the pictures in frames that I purchased in Kmart for $1 each. The circular things on the side are actually trivets that I purchased in a flea market for 25¢ (twenty-five CENTS) each. The total for 3 pictures, 3 frames, and 4 trivets as shown here was $19!
Picture 5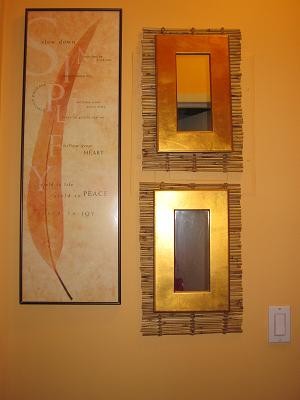 5. This is a picture of the hallway that leads to my room. I used some of the orange paint to do a section of the wall. I then put wooden place-mats on the wall to cover the electrical panel. The place-mats were $1 each at Jacks,  a 99¢ store located in NYC. The mirrors were purchased on discount at Kmart because one of the mirrors were scratched. I paid $5 for each several years ago. The large frame on the left-hand side was the most expensive at $19.99 but the verse won me over! It's an inspirational slogan that greets me every morning, definitely worth every penny!
Picture 6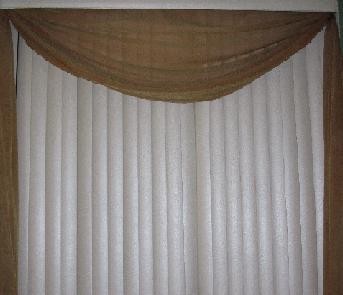 6. I  purchased the above material on clearance for less then $10. I created a border around the blinds provided with the rental. I did not need to sew, I was able to tie the material around the blinds with minimal effort. I have to say that the color in this photo does not do the material justice. It is a beautiful orange with a shimmer to it. It blends in well with the colors on the wall without overwhelming you.
Before these changes my room was a dull white, very bland and boring. I was able to paint the room in two days because I used two colors and the boys were underfoot. I then searched for items that I already had or was able to pick up for very cheap. All in all I spent about $63 on these items and I must say I am very pleased with the outcome!  
Do you have any frugal decorating ideas? If so, I would love to hear them!