Do you ever envy the short lines to the men's room? Or how they can drive and go at the same time (Coke bottle anyone?) Have you ever felt as though you were given the short end of a stick (pun intended)? I know I do, especially during those 3 hour long car rides, after drinking two cups of Dunkin Donuts, and no rest-stop in sight! Yup that's me below!

Well have no fear ladies, GoGirl is here in a beautiful pink to show just how feminine you can be while standing up!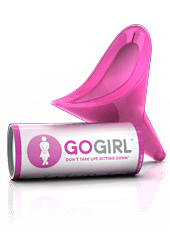 Need to hear more about it? Check out the video below….
Now if only they could show me how to discreetly use that contraption while wearing jeans on a long road trip with my teen and 8 year old sons  in the backseat of my car!
Ah bueno/oh well it sounds good in theory don't you think?